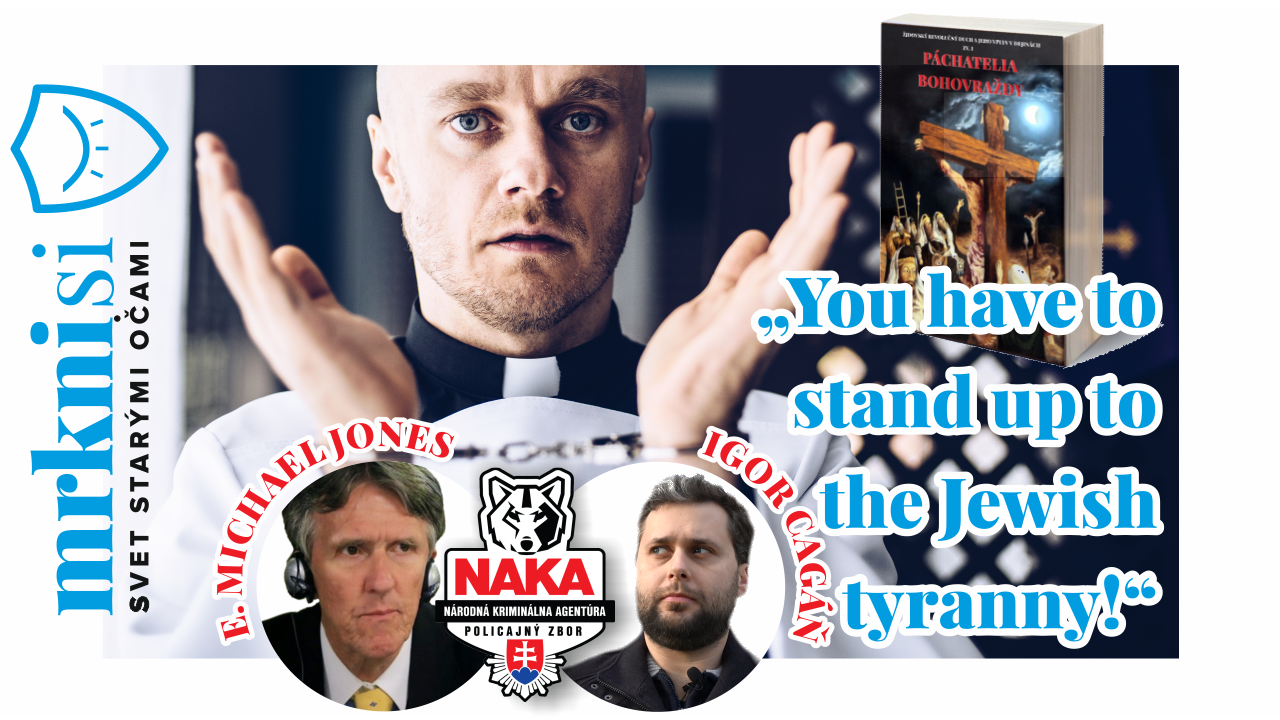 Igor Cagáň


Dr. Jones, as an author of tremendous amount of articles and many extensive books, including the Jewish revolutionary spirit and its impact on the world history, do You fell as a criminal?

---

Dr. E. Michael Jones

...do I feel like a criminal? The problem here – ehm – is that, Slovakia has adopted the international standards on antisemitism. The Jewish Revolutionary Spirit (the book) has nothing to do with antisemitism, OK?

Antisemitism is a term, that was coined by Wilhelm Marr in 1870. It was his attempt to deal with the Jewish subversion in Germany, without dealing with religious vocabulary. The Jewish Revolutionary Spirit (the book), it has nothing to do with a racial understanding of the Jew. That was Marr's invention, that's what antisemitism means.

What it means is basicaly that the Jews have a biological tendency to do evil. That their DNA, that their behaviour is a function of their DNA. And this is completely antithetical to everything I wrote in the Jewish Revolutionary Spirit (the book). The Jewish Revolutionary Spirit (the book) is about the theological basis of Jewish identity which is based on the Rejection of Christ and the Rejection of Logos.

---

Igor Cagáň

Right, thanks, I understand now. Because we can go back to this definition later. But, OK, You've said what about is Your book. Another question is: In how many countries has been the book published so far, and have You ever been persecuted for writing this book?

---

Dr. E. Michael Jones

No.

---

Igor Cagáň

No. Just to say for our listeners, with the end of the last year the Slovakian national assembly adopted definition of antisemitism and encouraged the attorney general to prepare something which we can call as An Antisemitism Act under which there could be a persecution of citizens according to this definition.

---

Zvi Aviner Vapni

Speech was given during the session of the Committee for Constitution and Law on 10. 10. 2018 in Bratislava, Slovakia.

Thank You very much! Good morning, everybody. I first want to thank speaker Danko for presenting and pushing this very deed adoption of this very important definition. For the reason I'm gonna mention I think this is very important step for this parliament and for Slovakia in general. Also I am to thank the committee for allowing me to be here with You today.

And I will express the feeling of the State of Israel on this issue. But at the same time I would like to clarify that this subject is not an Israeli subject. The organisation that created the definition You're going to discuss today is not an Israeli organisation and it was created by prime minister of Sweden in 1998 – IHRA. This subject is not an Israeli subject because hate and an incitement are an international subject that we should all be concerned about.

As we know there is a growth in antisemitism and in general in an incitement for hate against different minorities. It is true all around Europe and as the speaker mentioned before it's also, unfortunately, true in Slovakia. What was considered to be forbidden I would say only 10 or 15 years ago all of a sudden became possible to say and pronounce.

Now, this definition is a tool. Aimed that making it more easier to define, locate and bring to court people who are antisemites. Although not legally-binding this could he used in courts when the question arise is the person in front of the court an antisemite. How can You sanction or punish antisemite if You don't have clear definition what does that mean.

It's also important for me to say that this short definition includes also a group of examples that from my point of view are integral part of the definition and should he adopted with it. I do encourage You to do that. Mr. Speaker mentioned very distinguished list of countries and organisations that adopted this definition already so the Slovakia is not the first one and actually You are joining a very good group of countries that already adopted this very important definition.

I just like to add I might miss it what will be said here because of my lack of understanding of Slovak but I would like to add something that was said recently by the Secretary General of the UN on this issue. He said such definition could serve as a basis for law enforcement as well as preventive policies. In his statement on 26-th of September thif year he was very clear and very elaborate about antisemitism and this was part of his statement.

Now, of course I have to say – and we all know it – the Slovakia had a very problematic history during WWII. But at the same time I would like to comment the serious effort that has been made in this country to recognize the past and to deal with it and this is unlike other countries in Europe where's finally problematic to recognize their own past. Every year I have the honor to participate on the 9-th of September in the event that commemorates what happened here to the Yewish community during the holocaust and it was initiated here in Slovakia. Few times a year I visit the museum in Sered which is also a very great effort done on Slovak initiative to remember the past and to learn from it. And I know what effort being done in the further education because the most important audience for this message are the young generation. They have to learn about the history, the way it was, so they won't repeat it.

For all these reasons I think that Slovakia should join the very distinguished club of counlries that already adopted this definition. This will provide You with the tool You need in order to actually on a day to day basis fight this horrible phenomenon.

---

Rastislav Schlosár

Speech was given during the session of the Committee for Constitution and Law on 10. 10. 2018 in Bratislava, Slovakia.

My first question is: When we're to define antisemitism isn't it logical as the very first define the antislovakism or – let's call it – antihungarism and antichristianity because when we check the official statistics from the last census, so Slovak nationals are here in the amount of circa 4,6 millions, Hungarian nationals as the bigest minority are present here in the amount of circa half a million, while officialy there are registered only 218 Israeli nationals for whom we are going to adopt this definition so, 218 in contrast with half a million of Hungarians and 4,6 million of Slovakians who are the state-building nation.

When it comes to the Jews as a religious group we can also make a comparison: There is 4,5 million of Christians in Slovakia and there is only 2310 religious Jews.

So for me it seams logical to protect against hate and incitement state-building nation and or the bigest minority as is the Hungarian one and the faithful of the most spread religion in Slovakia.

---

Zvi Aviner Vapni

Speech was given during the session of the Committee for Constitution and Law on 10. 10. 2018 in Bratislava, Slovakia.

But if I understand correctly what was said here before is that there is very few thousands Jews living now in the Slovakia. Maybe the speaker should be remminded why there is only few thousands Jews left in Slovakia and why we need to make sure this kind of phenomenon, that makes the community of almost 100 thousands shrink to just 2 thousands should not be repeated.

Just one more remark. We are talking today about the old kind of antisemitism and the new kind of antisemitism.

The old kind we all know and we're familiary with it.

The new kind is saying that the Jews have no right for their own state. That existance of the State of Israel is illegitimate. That's basically taking the old antisemitism, put the new clothing on it and instead of attacking specific Jews You're against the existence of the Jewish state.

Definitely not criticism and if anyone wants to criticize the State of Israel I'm willing to be here and respond on behalf of my government that's definitely a legitimate discussion.

---

Igor Cagáň

I was given an advice by my lawyer to make an enquiry as a publisher of Your book – enquiry for the attorney general – what I actually did – to ask attorney general if publishing of The jewish revolutionary spirit could be considered as a crime now in Slovakia. So I sent them translation of Your book and now I am waiting for the response.

One important thing which we need to know now, is, that in Slovakia were established special courts and institution of special public persecutors, alike in the nazi Germany, because Hitler knew he was not capable to control all public persecutors, and the working area of these special public prosecutors in Slovakia is political and religious extremism.

So my question is: How do You consider such a fact that it is possible to commit a crime against the law by writing, editing or publishing such a book in the Central Europe, especially in catholic Slovakia? And how You see the fact that Your book is going to be reviewed by the nazi alike institution of special public persecutor?

---

Dr. E. Michael Jones

The problem here is the hate crimes legislation, that's what we're talking about here. This standard, it means that anytime anyone criticize a Jew is liable to go to jail. What's antisemitism in the current definition? – I've already given You the original definition – it current definition is: anytime someone says something that the Jew doesn't like – that is now known as antisemitism.

Now, in these incidents what we're talking about is the catholic understanding of the Jew, the traditional catholic understanding of the Jewish-Christian conflict at the beginning of the Christian era. This is discussed in the Gospel of Saint John.


My initial chapter is based on the Gospel of Saint John. So, if my book is being considered antisemitic that means they must – in order to be logical – they have to consider the Gospel of Saint John antisemitic.

The question here is: Are the Slovakian people willing to put up with this type of a Jewish tyranny? They are basically galling to the hearth of what's the catholic faith that the majority of Slovakians believes. This is what it's come down to.

---

Igor Cagáň

Yes, that is why I am contacting You because also Conference of Slovakian bishops is quiete about this. This gonna make up a really big problem. For example we are approaching to the Easter. And in Easter time in every Church in Slovakia will be read the chapters from John. And what's gonna happen now? – I am also asking – if there is a special commando entering all the Churches and arresting people for just reading the Evangelium.

---

Sv. Ján

This part of the Gospel is sung on the Good Friday in every Catholic Church in Slovakia.

Pilate therefore went forth again, and saith to them: Behold, I bring him forth unto you, that you may know that I find no cause in him. (Jesus therefore came forth, bearing the crown of thorns and the purple garment.) And he saith to them: Behold the Man. When the chief priests, therefore, and the servants, had seen him, they cried out, saying: Crucify him, crucify him. Pilate saith to them: Take him you, and crucify him: for I find no cause in him. The Jews answered him: We have a law; and according to the law he ought to die, because he made himself the Son of God.

---

Igor Cagáň

Just let's come back to the exact text of the definition we have adopted last year. Have You ever heard about International holocaust remembrance alliance established in Germany?

---

Dr. E. Michael Jones

No.

---

Igor Cagáň

OK, because this is the alliance, the organisation which decided to adopt the following non-legally binding working definition of antisemitism. Antisemitism which we have now incorporated in our law, sounds like this:

"Antisemitism is a certain perception of Jews, which may be expressed as hatred toward Jews. Rhetorical and physical manifestations of antisemitism are directed toward Jewish or non-Jewish individuals and/or their property, toward Jewish community institutions and religious facilities."

---

Dr. E. Michael Jones

Let's look, this law is based on the perception of the Jews. How can You have a law based on someone's perception? That's impossible. Law has to be based on objective facts.

Let's get back to objective facts in my book. My book is based upon the Gospel of Saint John. It is based on the Christian-Catholic understanding of Jews and the conflict between Jews and Christians which began at the foot of the Cross and it's continued up to this day.

Those Scriptures contain passages like Jesus telling the Jews: "Your father is Satan." When I gave this talk in Prague, the Jewish newspaper a week later said: "Jones says Jews are children of Satan." Jones didn't say that. Jesus Christ said that. Jones is quoting Jesus Christ. Is it illegal to quote Jesus Christ in Prague or in Slovakia now?

Another instance. Saint Paul, 1 Thessalonians 2. It says the Jews are the people they killed Christ and are enemies of the entire human race. Do the Jews find out that offensive? Oh, yes, they do! They always found it offensive. That's why they've fought the Catholic Church for 2000 years. What are we supposed to do about that?

What You're talking about here is the persecution of the Slovakian people are Catholic and they have to espouse the doctrine of Jesus Christ. They are followers of Jesus Christ, so they have to proclaim that Gospel, whether the Jews like it or not.

---

Igor Cagáň

Yes, that's completely right, the definition includes an example. Let's read one or two points about what makes You an antisemite according to this definition:

Using the symbols and images associated with classic antisemitism (e.g., claims of Jews killing Jesus or blood libel) to characterize Israel or Israelis.

Do You hear that?

---

Dr. E. Michael Jones

Let me give You another example. The Acts of the Apostles. St. Peter goes to Jerusalem. This is after Pentecost. And he says to the Jews: You killed Christ.

What we're supposed to do? Are we supposed to deny the Gospel? We cannot deny the Gospel, because these catholics, we're supposed to die before we deny the Gospel. If You're putting me at that position I will have to choose death over denying the Gospel. And the Slovakian people have to do the same thing. So, what You gonna do? Put the Slovakian people to death? All of them?

---

Igor Cagáň

It's gonna be like a new persecution. We had it in past by Communnists regime, now it's happening from the Brussels. It's the European Union... Like... it's not happening only in Slovakia. It was adopted also by the UK, Austria, Scotland, Romania, Germany, Lithuania, Republic of Moldova, Hungary, France. It's just unbelievable, because we are Christian countries especially here in the Europe. Now, the question is: – as You put it – what's gonna happen now? Are they going to close the Churches again? Are they going to rewrite the Gospel? Or what's on?

I don't understand it.

Just read one more point on what makes You an antisemite.

Making mendacious, dehumanizing, demonizing, or stereotypical allegations about Jews as such or the power of Jews as collective — such as, especially but not exclusively, the myth about a world Jewish conspiracy or of Jews controlling the media, economy, government or other societal institutions.

---

Dr. E. Michael Jones

Neal Gabler is a Jew. He wrote the book How the Jews Invented Hollywood.

---

Igor Cagáň

Je to možné.

---

Dr. E. Michael Jones

There's another instance here. I have said the Jews are behind the gay marriage. Is that hateful or not? Well, You can go to Cyclones Magazine which is a Jewish magazine and Ammy Dean says exactly the same thing. So, what You gonna do? Throw Ammy Dean to jail? Because she said the Jews are behind the gay marriage?

There is nothing mendacious about anything that I said in that book. OK? Everything I said there is the truth and for the most part, all of my sources are the Jewish sources like Heinrich Graetz who is the father of Jewish historiography. Heinrich Graetz said that Polish Jews were corrupted by reading the Talmud. Is that a hate crime now? ...to quote Heinrich Graetz – is that a hate crime? This is absurd! This is absurd!

The point here is the Catholics in Slovakia have to stand up to this tyranny. Because if You don't, they will shut down Your churches. They will close Your churches. They will do not stop. Because they think – that Slovakia – who is Slovakia? Who're these people? They're nobodies. We can push them around.

---

Igor Cagáň


You are right, yes. That's happening because we had a chairman of the Jewish organisation. And there were activists tlaking about abortions. And there were also pictures of the holocaust and the pictures of an abortions, what actually happens during them. And they were lie making a metaphor for it. And the chairman of the Jewish organisation said it is a hate crime! You cannot say that killing small, unborn people, it's alike a holocaust. You cannot say that in Slovakia.

---

Pavol Mešťan

Sequence shot by TV Markíza, Televízne noviny, 24. 06. 2008.

To say (abortions) are in a row with the biggest genocides of the 20-th century whereas we consider as the biggest genocide the holocaust – so, from my point of view that is holocaust denial.

---

Jana Ray-Tutková

Sequence shot by TV Markíza, Televízne noviny, 24. 06. 2008.

We refuse to tolerate holocaust of 40 unborn Slovak children a day, while the second victim of an abortion is a woman.

---

Dr. E. Michael Jones

Who gave the Jews the right to tell us what we are allowed to say? Who gave them that right?

---

Igor Cagáň

That's a good question. I think the politicians in Slovakia, because before we adopted this definition, our, like a chairman of the Congress went for a visitation in Israel.

---

kpt. Andrej Danko

Sequence shot by TV NR SR, "Freaks who deny holocaust in plenum of National Council, must stop", 3. 7. 2018.

All of us just feel it and I suppose that right on the ground of Knesset it is important to clearly say that we have a problem with a political party Our Slovakia. And right from this place I am making an serious appeal to Slovak media, which should observe these manifestations of intolerance and antisemitism because that's what is influencing our youth. It's realy for consideration where we have the Slovak politics in this area. So, I have promised here on the ground of Knesset that I will make my very best to improve our legislation in the field of defining an antisemitism, to improve our Criminal Code and the Code of Criminal Procedure so we become able to make order with these freaks who are now in plenum of the National Council denying holocaust.

---

Dr. E. Michael Jones

Do You know what You have to do? You have to ask every politician in Slovakia: "Who do You represent?" Do You represent the people of Slovakia? Or do You represent the Israel lobby, or the big Jews with money? Like George Soros. Who do You represent? And then we have to go down the line. OK, now, which You said who do You represent we will vote accordingly.

This is an intolerable situation that every politician represent Jewish money and nobody represents the people that vote for.

---

Igor Cagáň

Are You familiar with the special public persecutors in the nazi Germany? With this system of special public persecutors? Are You familiar with that?

---

Dr. E. Michael Jones

No.

---

Igor Cagáň

No, OK. They cannot control all of the public persecutors so they made a special units for that and that also happens here in Slovakia. So, how can we call it? It's nothing else but nazi regime, or how to call it.

---

Dr. E. Michael Jones

What I would do, go ahead with the publication and say: "Sorry, this rule against antisemitism does not apply to this book, because there's nothing antisemitic about this book. This is not an antisemitic."

I state explicitly in the first chapter idea with the distinction between being antisemitic and antijewish. The Gospels cannot possibly be antisemitic because antisemitism is a racial concept. They were all the same race. To say, the Gospels are antijewish. Of course they are. Because what we're talking about is a conflict between the Jews who accepted Jesus Christ and the Jews who rejected Him. And Jesus Christ that strong words say about the Jews who rejected Him. He said: "Your father is Satan." That's in the Gospel of Saint John and we as the Catholics have to preach that Gospel. That's the end of the story.

If You want to start here, just be prepared to throw the entire Catholic population of Slovakia in jail for hate crimes. Because if the Catholic population stands together with some type of solidarity they will not be able to do anything. That is what happened to me in Poland. When the Polish edition of Libido Dominandi came out, the bishops, the publisher, everyone was saying Jones is an antisemite. You have to stop the book tour. The Polish bishops stood behind me and nothing happened. And because they stood behind me we defeated gay marriage in Poland. The lesson here is Catholic solidarity. They're not gonna throw every single Catholic in Slovakia in jail. That cannot happen. That will not happen! The question is, are we Catholics going to stick together? That is the only relevant question here.

---

Igor Cagáň

Thanks, Dr. Jones. And the last question is: What is Your advice for the Revolutionary Jew?

---

Dr. E. Michael Jones

Conversion!

---

Igor Cagáň

That's great, yes!

---

Dr. E. Michael Jones

Let's go back to Saint Peter. St. Peter said to the Jews: "You killed Christ." These were Revolutionary Jews because they killed the Christ and they were in a rebelion against Logos. And because the St. Peter said that – it says: "They were cut to the heart." – Then the Jews said to St. Peter: "What must we do to be saved?" And he said: "You have to accept baptism." That is the solution to the Jewish Revolutionary Spirit. It's baptism.

---

Igor Cagáň

Right. Thank You very much, Dr. Jones.